Indonesia, Morocco Expanding Economic Cooperation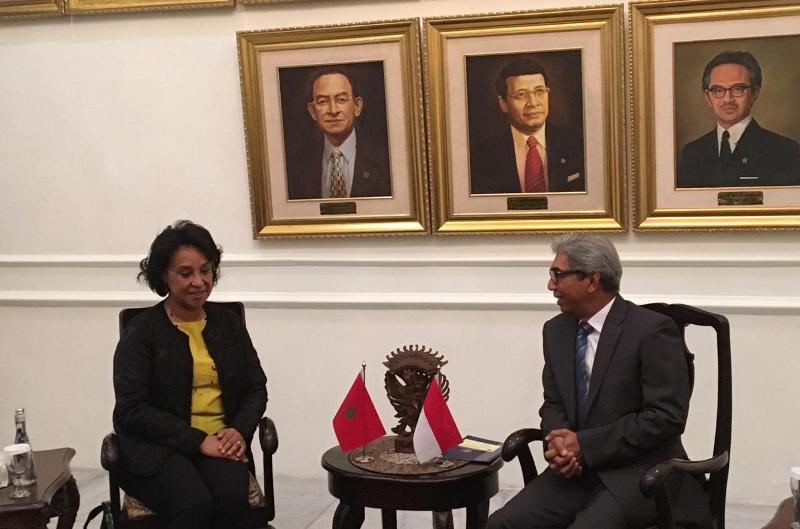 Jakarta
: Indonesia and Morocco will start negotiation on preferential trade agreement (PTA) in Jakarta next month to expand bilateral trade.
The process to start PTA was discussed here by Deputy Foreign Minister AM Fachir and Moroccan Deputy Foreign Minister for International Cooperation Mounia Boucetta at the second Joint Commission Session of Indonesia-Morocco here on Friday.
"We discuss wide ranging issues to toward expansion of economic cooperation between the two countries including in trade. Indonesia sees the northern African country as a highly potential non-traditional market," Fachir said in a news release.
Indonesia proposed discussion on PTA to start in November 2018, and the process of negotiations is expected to be wrapped up in a year. With the PTA between Indonesia and Morocco , there would be intensive inter action between the business people of the two countries, Fachir said.
Morocco could server as a gateway to the big African market. Trade between Indonesia and Morocco was valued at USD154.8 million in 2017 with Indonesia exporting USD86 million worth of commodities and importing USD68.8 million worth of goods from that country.
The PTA proposal of Indonesia was welcomed by the Moroccan deputy Foreign Minister Mounia Boucetta, who said strong economic transnational cooperation provides gateway to regional market. The Moroccon government wants to push for promotion of investment projects in various sectors including food, fertilizer, tourism , automotive industry and construction.
In addition to PTA, the two countries are in the process of finalizing a number of bilateral agreements to promote trade relations such as agreement on standardization and halal certification, merchant ships, memorandum of understanding (MoU) on agricultural cooperation, MoU on industrial cooperation and MoU on cooperation in small and medium enterprises (UKM) development.
"In the industrial sector , apart from through MoU , the two countries agreed on plan for investment cooperation in Indonesia to produce fertilizer . Morocco has large reserve of phosphate which we need as a basic material for fertilizer," Fachir said .
(Antara)
(FJR)
//=$vcomment;?>