IMF to Donate Rp2 Billion for Quake Victims in Central Sulawesi, NTB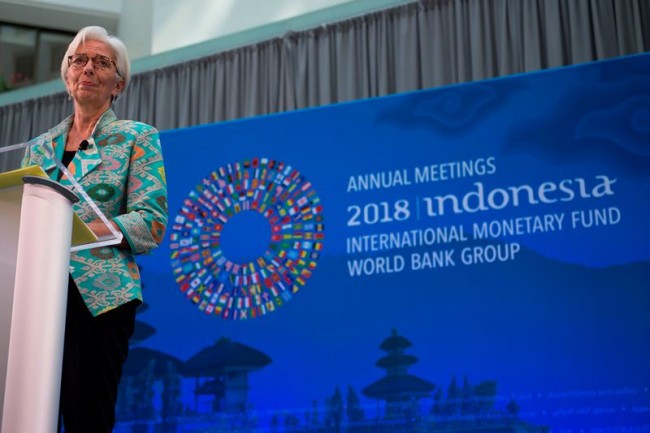 Bali:
The organizing committee of the 2018 IMF-World Bank Annual Meetings has reported that the management and staff of IMF will donate Rp2 billion for the victims of recent earthquakes in Central Sulawesi and West Nusa Tenggara (NTB).
"The aid, which will be directly handed by the IMF Managing Director Christine Lagarde, will be distributed through the Indonesian Red Cross (PMI) and a number of non-governmental organizations, including the World Central Kitchen, World Vision, as well as other institutions," said the organizing commitee in a press release on Monday.
The event will take place in Nusa Dua, Bali on October 8-14. It reportedly will gather more than 19 thousand guests from various countries.
"In addition, Indonesian Coordinating Minister for Maritime Affairs Luhut B. Panjaitan will also make donation under the Lombok Disaster Relief Efforts scheme through the East Java branch of Nahdlatul Ulama Muslim organization (PWNU) amounting to Rp500 million," it said.
"In the meantime, Governor of central bank Bank Indonesia (BI) Perry Warjiyo is also set donation under the scheme of Bank Indonesia Social Program amounting to Rp500 million for the rehabilitation of five mosques and two school buildings in Lombok Barat, Lombok Utara, and Mataram," it said.
The government is optimistic that the event can promote Indonesia on the international stage. It also believes the presence of foreign guests can bring positive impacts to Bali and other regions.
(WAH)