Battered Syria Rebels to Meet Russian Brokers for New Talks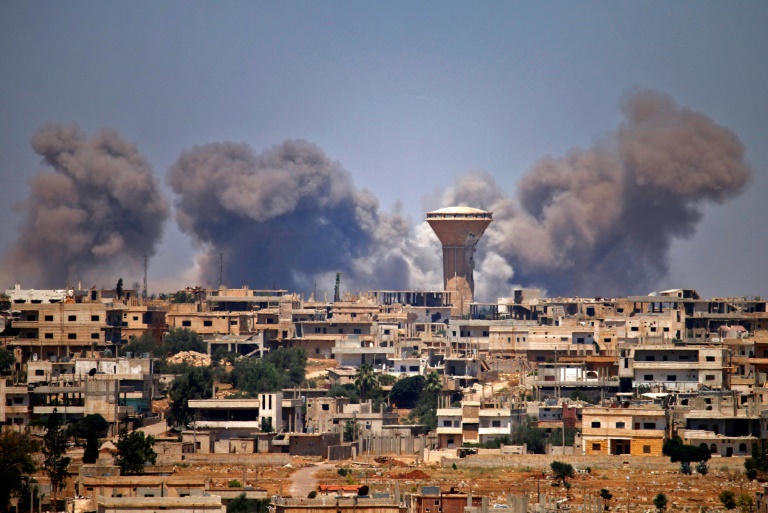 Daraa:
Rebels in Syria's battered south were expected to meet with Russian negotiators on Friday after a ferocious 24-hour bombing blitz pushed them to agree to resume talks.
Moscow, a key ally of the Damascus regime, has been brokering talks for the negotiated surrender of rebels in areas of southern Syria bordering Jordan and the Israeli-occupied Golan Heights.
The negotiations collapsed on Wednesday, with rebels blaming Russia, ushering in a day-long volley of air strikes, barrel bombs, and missiles that ultimately pressured rebels to return to the table.
"The rebel delegation is on its way to the meeting," Hussein Abazeed, spokesman for the south's joint rebel command, told AFP.
He accused Russia of pursuing a "scorched earth policy" to force rebels back into negotiations.
The joint command said on Thursday it would be willing to hold "a new round of negotiations" if a halt to hostilities was immediately put into place.
As rebels made their announcement, bombardment died down across swathes of the south, according to an AFP correspondent on the outskirts of Daraa city and the Syrian Observatory for Human Rights monitoring group.
By Friday morning, intermittent strikes and barrel bombs were hitting Daraa province's eastern countryside but overall the raids were less intense than the previous day.
After securing areas around the capital this year, President Bashar al-Assad last month turned to the south, launching a bombing campaign on rebel areas on June 19.
Moscow, which intervened militarily in Syria in 2015, simultaneously began brokering talks, employing a carrot-and-stick strategy that has allowed the regime to recapture significant territory.
Aiming at border post
Under such deals, rebels hand over heavy weapons, local police take control of the area and government institutions resume working there.
More than 30 rebel towns have agreed to fall back under regime control through these agreements, doubling the government's hold on Daraa province to around two-thirds.
On Thursday, regime forces made sweeping advances on the border with Jordan, seizing their first security post there in more than three years, the Britain-based Observatory said.
Rebels then handed over some 275 square kilometres (105 square miles) of border territory without a fight, said Observatory chief Rami Abdel Rahman.
But rebels still hold Daraa's western countryside, the southern half of the divided provincial capital, and the prized Nassib border crossing.
The Observatory said regime forces had moved closer to Nassib on Friday.
"After the town of Al-Mutaaiyah agreed to the regime taking over, government forces are now four kilometres east of the crossing," Abdel Rahman said.
Syria's cash-strapped government hopes to recapture Nassib so that it can reopen trade with Jordan to the south.
Daraa is considered the cradle of the 2011 uprising against Assad that triggered Syria's war.
Rebel territory in the south was included in a ceasefire brokered last year by Russia, the United States, and Jordan, but that has done little to stem violence.
On Thursday, the United Nations Security Council convened in an urgent closed-door meeting to discuss the south, but Russia blocked the council from adopting a statement.
More than 150 civilians have been killed since the start of the offensive, according to the Observatory.
The offensive has pushed more than 320,000 people to flee, according to the UN, many to the closed border with Jordan or west near the Israeli-occupied Golan.
(AFP)
(WAH)