Presidential Debates May Take Place in Jakarta, Surabaya: KPU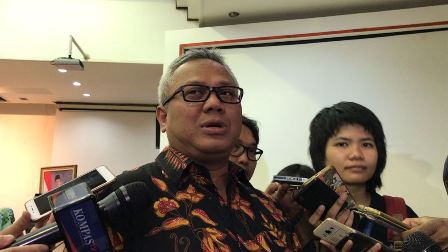 Jakarta:
General Elections Commission (KPU) chairman Arief Budiman has said that the presidential debates may take place in Jakarta and Surabaya.
"we are considering two options namely Jakarta and Surabaya," the KPU leader told reporters on Friday.
"We initially planned to hold the presidential debates in Sumatra, Java and Sulawesi," he added.
Indonesia will hold the first ever simultaneous presidential and general elections on April 17. Voters will pick the president and lawmakers on the same day.
On August 9, Incumbent President Joko "Jokowi" Widodo named Nahdlatul Ulama (NU) cleric Ma'ruf Amin as his running mate. Not long afterwards, opposition leader Prabowo Subianto announced Jakarta deputy governor Sandiaga Uno as his vice presidential candidate.
The pro-government coalition include PDI Perjuangan, Golkar Party, PKB, PPP, NasDem Party, Hanura Party, PKPI, Perindo and PSI. The opposition camp consist of Gerindra Party, Democratic Party, PKS, PAN and Berkarya Party.
(WAH)