President Jokowi Visits Mualimin Muhammadiyah School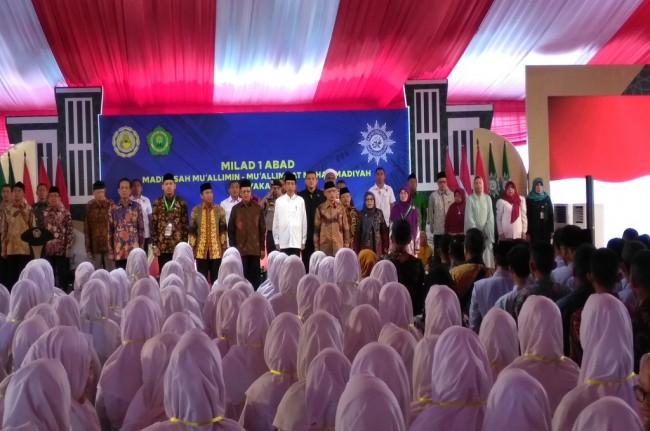 Jakarta:
President Joko "Jokowi" Widodo attended the centenary anniversary of Mualimin Mualimat Muhammadiyah Islamic boarding school in Yogyakarta on Thursday.
"It is the oldest Islamic boarding school in Indonesia," Mualimin Muhammadiyah Islami boarding school director Aly Aulia told the guests during the event.
President Jokowi was accompanied by Education and Cultural Affairs Minister Muhadjir Efendi, State Secretary Minister Pratikno and State-Owned Enterprises Minister Rini Soemarno. The event was also attended by Muhammadiyah chairman Haedar Nashir, former Muhammadiyah chairman Syafii Maarif and Yogyakarta Governor Sri Sultan Hamengkubowono X.
In his speech, President Joko "Jokowi" Widodo praised the school's role in education sector. In addition, he also instructed the State Owned Enterprises Ministry to help build the school's new college building.
"I have instructed Minister Rini to immediately start the project. Minister Rini is going to instruct related SOEs to support the project," President Jokowi said.
(WAH)